These moments make up my life... For better or for worse, it is my life... And it is a life I love. For these moments, and for this life, I take responsibility. Other people need not approve. For these moments, I make no apologies. I am UNAPOLOGETICALLY ME.
Sunday, August 8, 2010
My friend, Natasha, taking burlesque to Tokyo.
BRAVO!!!
Nothing comes without a price. So before you go into battle you better decide how much you're willing to lose. #TLS
LOVE this song and video <3 <3 <3
Thursday, August 5, 2010
IT IS ABOUT TIME... Au Revoir PROP 8!!!
While this is a news story that certainly merits national attention, I must say that, living in West Hollywood these last years, I see this as much more than a Judicial step in the right direction... When this right was taken away by conservative voters on election day, the celebration and optimism generated from the progressive change-the realization of the breaking of one proverbial glass ceiling-in the election of Barack Obama was tainted for those in living West Hollywood, as we watched another such ceiling, seemingly broken, replaced by an iron cellar door and bolted shut. It was a day that Dickens should have lived to see for it was truly "the best of times, it was the worst of times"...
I recall, vividly, last summer, having one of many arguments with my father about the rights and wrongs of the world. On this day, I remember growing angry with my father because he was, as usual, full of criticism yet there were no actions other than ranting at me being taken on his part to correct the cited injustices. I argued that, while I agreed with his sentiments, he had no right to criticize the actions of others when he refused to take any, himself. "What would you have me do about it? Write letters? One person will not make a difference. I'm not dumb enough to waste my time..." my father argued. I rolled my eyes and told him that his cynicism/old age were guaranteed not to help anything. He informed me of how naive I was to think there was anything that I could do or he could do. His evidence was what makes that day stand out in my mind: "People do not care. There will be no change because people will not fight. Nobody cares!" For a moment, I sat, stunned. Then, I grew angry. Why? Because my mind went immediately to the marches and protests and rallies that were taking place consistently in Hollywood and West Hollywood. I had participated in some and, when you live in that area and Hollywood Boulevard is closed for a protest, whether you want to participate or not, YOU DO. You sit in traffic, or, if you can, avoid driving. While the people of Los Angeles are no strangers to traffic, they (we) are also not fans... This was the ONE cause of horrific traffic that I can think of that NO ONE complained about. There was an injustice being done and people were trying to correct it so, if it caused some extra traffic and inconvenience, so be it. Doing what is right is rarely convenient. Yet the people in the community did just that: fought tirelessly, with no end in sight, against what we knew to be wrong and yet it seemed it would never change. Another thing I must mention is that these protests/rallies/whatever you want to call them were massive. West Hollywood IS a city with a large gay community. However, these demonstrations were much bigger. People from all walks of life, races, social circles AND sexual orientations joined together and, by doing so, repeatedly said 'WE WANT THE JUSTICE FOR ALL THAT IS PROMISED TO US BY THIS GREAT COUNTRY AND, UNTIL JUSTICE IS DONE, WE WILL NOT BACK DOWN. WE STAND TOGETHER TO SAY THAT WRONG IS WRONG, NO MATTER WHO IS IMPACTED.' You see, we had a choice to make: either stand by and, in doing so, silently support the injustice being done OR take a stand for what we believe is right.
The monumental decision handed down today is one that I am certain was rendered based on numerous variables, weighing significantly more than those protests held in Hollywood. Nevertheless, as I read this story, I could not help but think of my father and, with a smile on my face, I found myself say out loud, "You are wrong, Dad. People DO care." And I can't help but think, or hope, that, in SOME way, it DOES make a difference.
To everyone, everywhere, who has fought what seemed to be a losing battle, this victory is shared with you.
JUDGE OVERTURNS CALIFORNIA'S BAN ON SAME-SEX MARRIAGE (via cnn.com)
(CNN) -- A federal judge in California on Wednesday struck down the state's ban on same-sex marriage, ruling that voter-approved Proposition 8 violates the U.S. Constitution -- handing supporters of gay rights a major victory in a case that both sides say is sure to wind up before the U.S. Supreme Court.
The 136-page opinion, issued by Chief U.S. District Judge Vaughn Walker in San Francisco, is an initial step in what will likely be a lengthy fight over California's Proposition 8, which defines marriage as a union between a man and a woman.
At stake in the trial was whether California's ban on same-sex marriage violates gay couples' rights to equal protection and due process, as protected by the U.S. Constitution.
The high-profile case is being watched closely by both supporters and opponents of same-sex marriage, as many say it is destined to make its way to the U.S. Supreme Court. If it does, the case could result in a landmark decision on whether people in the United States are allowed to marry people of the same sex.
Video: 'Today we eliminate discrimination'
Video: 'This is just the first document'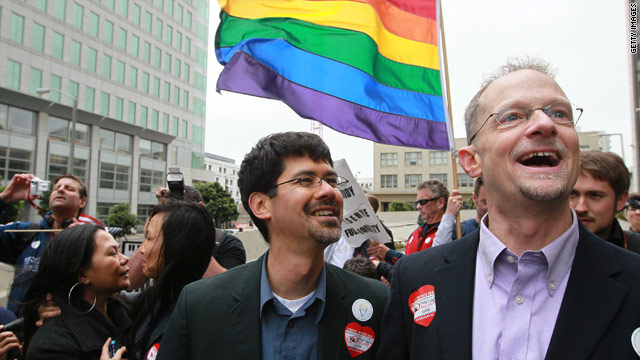 Video: Same-sex marriage ban overturned
Same-sex marriage is currently legal in five U.S. states and in the District of Columbia, while civil unions are permitted in New Jersey. The five states are Massachusetts, Connecticut, Vermont, Iowa and New Hampshire.
"Proposition 8 fails to advance any rational basis in singling out gay men and lesbians for denial of a marriage license. Indeed, the evidence shows Proposition 8 does nothing more than enshrine in the California Constitution the notion that opposite-sex couples are superior to same-sex couples," Walker, who was appointed to the federal bench by former President Ronald Reagan, wrote in his opinion.
"Race restrictions on marital partners were once common in most states but are now seen as archaic, shameful or even bizarre," he added. "Gender no longer forms an essential part of marriage; marriage under law is a union of equals."
In a separate order, Walker also granted supporters of Proposition 8 a temporary stay, which stops his decision from taking immediate effect. They had argued, prior to his ruling, that same-sex marriages would be performed soon after his decision and could be complicated by rulings and appeals farther down the legal road.
Walker gave both sides in the case until Friday to submit their responses to the order.
Elated supporters of same-sex marriage gathered to celebrate the judge's opinion in the Castro district of San Francisco. After speeches and songs, they began a march to city hall. People waved rainbow flags and U.S. flags, and carried signs that read, "We all deserve the freedom to marry," and "Separate is Unequal." Similar rallies unfolded in cities across California -- including Los Angeles and San Diego.
"For our entire lives, our government and the law have treated us as unequal. This decision to ensure that our constitutional rights are as protected as everyone else's makes us incredibly proud of our country," said Kristin Perry, a plaintiff.
Perry and Sandy Stier, along with Jeffrey Zarrillo and Paul Katami, are the two couples at the heart of the case, which if appealed would go next to the 9th U.S. Circuit Court of Appeals before possibly heading to the U.S. Supreme Court.
Opponents of same-sex marriage have said their best bet lies with higher courts and vowed to appeal the federal judge's ruling.
In a national survey, conducted by Gallup in May, 53 percent of respondents said same-sex marriages should not be recognized by law, while 44 percent said they should.
Proposition 8 is part of a long line of seesaw rulings, court cases, debates and protests over the controversial issue of same-sex marriage. It passed in California with some 52 percent of the vote in November 2008.
"Big surprise! We expected nothing different from Judge Vaughn Walker, after the biased way he conducted this trial," said Brian Brown, president of the National Organization for Marriage. "With a stroke of his pen, Judge Walker has overruled the votes and values of 7 million Californians who voted for marriage as one man and one woman."